TENZAN AIKIDO INSTRUCTOR BIOS
Bruce Bookman, Chief Instructor, Kaicho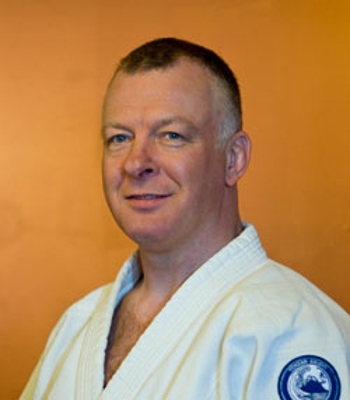 Kaicho, Bruce Bookman's career in aikido began in 1970 as a 12 year old at the New York Aikikai, under the direction of Yoshimitsu Yamada Shihan. Bookman became the youngest aikido blackbelt in America at the age of 15. Upon receiving his black belt, he became a member of the New York Aikikai teaching staff. At age 16, Bookman was dispatched to Mexico City to teach for two months as temporary chief instructor until a permanent teacher arrived from Japan. He moved to Tokyo to apprentice at the International World Headquarters at age 19. There he studied intensively with Kazuo Chiba Shihan and other prominent masters of aikido at the Headquarters dojo, including Kisshomaru Ueshiba, the son of the founder. He studied for two years and was promoted to 3rd degree blackbelt.
Bookman moved to Seattle in 1981 and established Aikido Northwest. At that time he became a senior member of the United States Aikido Federation (USAF Western Region) Teaching Committee under the direction of Chiba Shihan, with whom he worked closely for another 14 years. In 1998 Bookman was promoted to 6th degree blackbelt, a master's rank. In 2000, he respectfully withdrew from the USAF to start his own organization, Tenzan Aikido, where he continues to teach full time. He also teaches by invitation, seminars around the country.
In addition to extensive cross training in boxing, tae kwon do, judo, iai-do, Bookman is a black belt professor of Brazilian jiu-jitsu with over 20 years experience. He continues his study of Japanese classical swordsmanship and weaponry with Araki-ryu Shihan, Ellis Amdur.
Bookman has studied yoga, on-and-off since childhood. He co-owns the dojo with his wife, Colette Crawford. Both he and Colette follow the teachings of their beloved guru, Mata Amritanandamayi from whom they derive the most inspiration for their work in aikido, yoga and meditation.
Instructors
Chuck Montange, 6th Dan, Shihan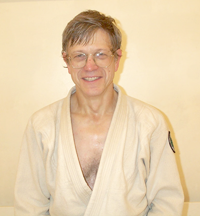 Chuck began studying tae kwon do in 1984 in the Maryland suburbs of the other Washington, and added some hap ki do in 1989. On recommendation from his tkd instructors, upon moving to Seattle in 1992, he looked into aikido, and happily switched to aikido under Bookman Sensei. He believes aikido by far the most interesting from a philosophical point of view of all the martial systems. Aikido's ideas of blending and harmonization as a means of addressing a physical confrontation are a powerful metaphor for how to approach conflict situations of all sorts. He thinks it is simply impossible to exhaust the opportunities aikido offers for physical and psychological challenges and development. Plus the aikido students are an interesting and caring group of folks. He thinks it a great activity to share with family members. Chuck has trained with all four of his children, two of whom are now black belts.
Melissa Pittman-Fischer, 4th Dan, Shidoin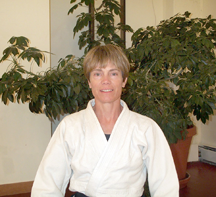 I was a ballet dancer before moving to Seattle and marrying my husband ,Tam. I began practicing Aikido because our two boys, Max and Casey, were in the children's program and it looked like fun. It is, but it is more than that! Aikido is a unique package of athletics, meditation and community, and I was instantly and permanently hooked. I earned my black belt rank from Bookman sensei here at the Tenzan Aikido dojo, and in 2010, I became the dojo manager. I've been teaching either dancing or Aikido for 35 some years, including 10 years at the Pacific Northwest Ballet school. I have degrees in Psychology and Education from the University of Washington where my focus was the neuroscience of exercise. This academic study informs my personal Aikido training as well as my teaching. At Tenzan, I teach the preschoolers, the 6 and up kids, Teens and Advanced kids and the adults. My parent/child Aikido seminars have a special place in my heart!
Joshua Stein, 4th Dan
Brigid, 3rd Dan
Brigid has been a student of Bookman Sensei since 2005. She currently teaches weapons on Fridays at 4:30 p.m.
Bridget Thompson, 2nd Dan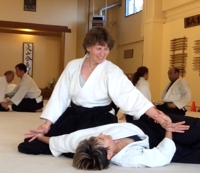 I was pregnant and living in So California when I first stepped out onto the mat. My children were homeschooled and at that stage not particularly interested in sport. I felt strongly that they needed to have some exposure to substantial physical education and never having heard of it before, I chose aikido. It wasn't long before the whole family was completely absorbed in the training – well, all except for me because it was just too uncomfortable as my pregnancy progressed. Eighteen months after our daughter was born we moved up to Seattle and the very first thing we did was visit Bookman sensei's dojo and signed up. There was a time when 6 Thompsons filed down the side of the mat towards the dressing rooms! I watched every kids' class for 6 years before I felt ready once again to step onto the mat. It took me years and years after that to get my black belt (shodan) and then nidan. It was a long, slow process of intense and profound learning. It still is. Aikido has worked itself deeply into my way of being in the world. Tenzan Aikido has been my place for 24 years. It's where I belong.
George Moore, 2nd Dan
Benson Miller, Shodan
Paul Bouchey, Shodan
Chauncy Rothchild, 1st Dan Aikido / Blackbelt, Brazilian Jiu-jitsu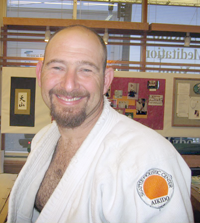 I joined the dojo after watching an advanced class over twenty years ago and have been looking for the grace, fluidity and ease in themovements ever since I saw them that first night. When Bookman sensei asked me to help with the kids program I was both honored and nervous. Now eighteen years later I am comfortable and feel as if I am able to provide an enjoyable and safe class. The students are super fun and I love working with them. I received my black belt from Bookman sensei in 2003 and also am very passionate about Brazilian Jiu-jitsu which I've studied for over eighteen years.
Jonathan Swift, 3rd Dan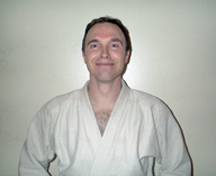 Before coming to Sensei Bookman's dojo in 2005, I trained in Shito-Ryu Karate for several years with a very rigorous Japanese Instructor. His Karate was beautiful and practical and I missed the art. When I moved to Seattle, I looked at several schools. After watching one of Sensei Bookman's classes, I saw the same artistic qualities that I admired in my Karate instructor.
Teaching the children's classes makes my practice a little lighter. When the kids are having fun, I'm having fun. There are countless times when I can't help myself but to burst into laughter. It's a great feeling!
Enrique Enguidanos, 3rd Dan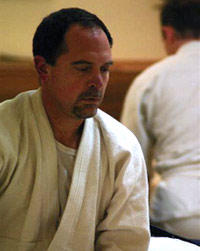 I was introduced to Aikido by my wife shortly after we met. Honestly, it didn't grab me immediately, but really enjoyed hanging out with her, so I stayed with it!! Slowly the art and I began to entwine, such that today if I go for an extended period of time without practicing, I notice a lack of centeredness in my daily activities. Within Tenzan Aikido I've been able to develop my intensity and spirit, while also enjoying the wonderful family dynamics fostered by the dojo. When teaching I try to balance my understanding of the art with whatever space the students bring. It's a great experience!
Stan Rawrysz, 2nd Dan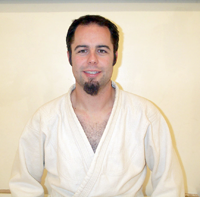 My first experience with aikido was while I was living in Germany in 1999. I was part of an exchange program and was looking for something to do in my spare time. I had always been interested in aikido, so I signed up for the once-a-week class. When I got to the first class, I didn't understand what was being said, with a mix of Japanese and German being spoken, but I found that I was able to fully participate because the common language was the movement. Everyone was so friendly and patient. I was initially surprised that the senior members worked with everyone, including the first-timers. There were no egos or anything to prove, only a love of aikido and an eagerness to practice. When I came back to the U.S. and moved to Seattle, I immediately joined a dojo only to injure my knee skiing a few months later. Life and work and business took its course and it wasn't until 4 years later that I would walk onto the mat at Tenzan in 2004. Since then, aikido has positively influenced my life, physically, emotionally, and spiritually. I've been helping with the kids classes since 2006. Working with the kids has been a truly rewarding experience. I learn as much from them about myself and about aikido as they learn from me.
Ron Nicolas, Shodan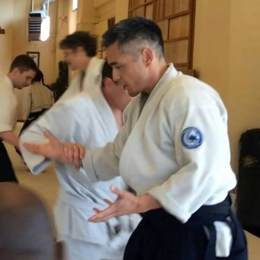 Ron has been an active member of Tenzan Aikido since 2010 and received his black belt from Bruce Bookman Kaicho in 2015. He teaches the Friday noon class.
"I love what Aikido brings to my life; centeredness, awareness, fluidity, balance, tradition, and camaraderie. I try to absorb what Bookman sensei teaches me, including the tradition of Aikido that he came from. I feel as I move up the ranks, it is my duty to pass this knowledge on as well.Aikido humbles you but at the same time gives you the confidence to learn and strive for more."
Assistant Instructors
Cynthia Coulthard, Shodan
Cynthia teaches the Junior level and ages 6 and up children's classes. She recieved her black belt from Bookman Kaicho in April 2016.
Philip Sheie, 3rd Kyu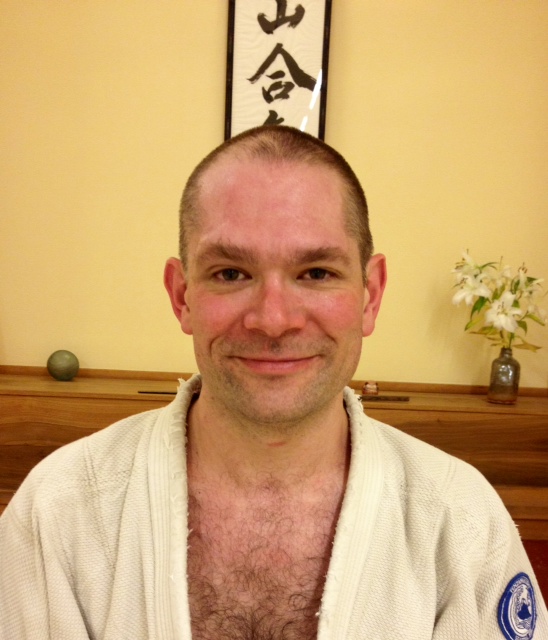 After years of talking about how much I wanted to try it, I began studying Aikido here at Tenzan Aikido in late 2009. I was given a membership and a trial month as a gift and never stopped coming. Aikido has been a blessing for me. It has opened up my movements, helping me to draw from and strengthen my core and add more fluidity to my movements. I feel Aikido's influence on the mat and in my daily life on the bicycle and in the bike shop.
I began as a helper in the children's classes nearly a year ago, and I have found it to be a source of constant inspiration and joy. Watching an inattentive or distracted child develop into an aikidoist makes it all worthwhile. As they evolve, they learn to focus while a technique is being demonstrated, eking out the essence of every subtle movement that Sensei makes. It's like seeing a butterfly climb from its chrysalis. When those kids, like butterflies, learn to fly, it is fantastic!